Loop Dee Science and the University Hospital of Caen Normandy working together to develop a new test for fast detection of COVID-19.
Caen (Normandy), France – April 18, 2020
Loop Dee Science, a French biotech start-up from Normandy, together with the scientific input of the University Hospital of Caen Normandy (CHU Caen), has developed a point-of-care detection solution for COVID-19 using molecular biology and yielding results in only 50 minutes. The analytical kit, LoopXplore COVID-19, and the automated device, are now entering a clinical trial phase, of which CHU Caen is the sponsor with Professor Astrid Vabret, head of the virology department, as coordinating investigator.
Loop Dee Science and CHU Caen signed a partnership agreement to validate scientifically the LoopXplore COVID-19 analytical kit and the analysis device, a portable and autonomous diagnostics device. The joint scientific validation study seeks to:
First, validate theoretically the kit in the CHU's Virology Laboratory – step already successfully conducted (sensitivity: 96%, specificity: 96%). 

Second, validate the kit in a prospective clinical trial with 1 000 patients to evaluate the performance in point-of-care conditions – step for which initial results will be available by the end of April.
Innovation in molecular diagnostic : LoopXplore COVID-19 and Analysis device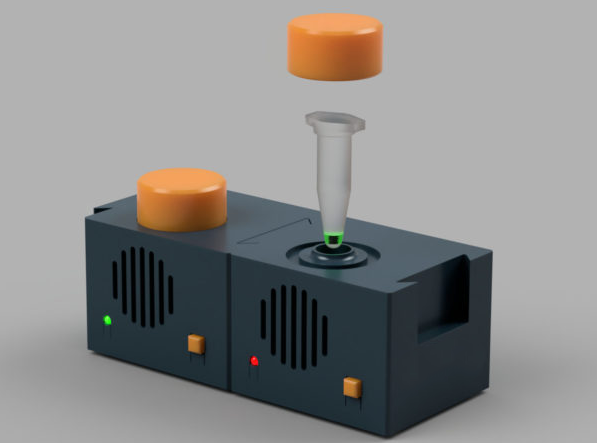 Loop Dee Science's innovative detection test, LoopXplore COVID-19, is a fast point-of-care testing kit which runs on the analysis device, a small portable and autonomous device designed by the founders of the start-up with the scientific backing of CHU Caen. The test uses isothermal amplification technology to detect the genetic trace (RNA) of the virus itself without any additional equipment, such as thermocyclers.
The analysis device is a powerful analytical instrument that not only generates a test result visually, but also electronically via a USB or Bluetooth connection. The device is above all designed for point-of-care use, meaning it is very light and portable (only 7x6x6 cm in size) and operates on a standard electrical outlet or with a USB-C battery.
The analysis device is a connected device completely programmable and controlled by a smartphone and/or computer application, which lets users operate multiple instruments simultaneously.
Loop Dee Science used agile methods for the development of the analysis device with the aim of keeping the process as simple and robust as possible while easing the ability to manufacture (the outer casings of the device are 3D printed) without sacrificing performance or precision.
The clinical trials are currently underway after which point, Loop Dee Science should be able to ramp up production quickly and make thousands of devices and hundreds of thousands of analytical kits thus greatly increasing the current testing capabilities, especially on site (point-of-care), to detect more efficiently people infected by COVID-19.  
The innovative testing system developed by Loop Dee Science is not exclusively dedicated to analyzing SARS-CoV-2 and could also be used to detect other viruses, bacteria, or pathogens. In addition, a version of the LoopXplore fast test for use on standard equipment in laboratories (thermocyclers) is currently being developed. 
Innovation Ecosystem in Normandy (France)
The new analytical system by Loop Dee Science is an innovation 100% made in Normandy which brought together local expertise and know-how from different and complementary areas:
The start-up Loop Dee Science, founded in Caen in 2017, is an expert in DNA analysis and initially worked on viruses in animals for fast testing solutions dedicated to veterinary use. At the onset of the COVID-19 pandemic, the young company was in fact working on the development of a new kit for the canine and feline Coronavirus. Alerted by its Chinese partner as soon as January, Loop Dee Science immediately undertook to make a fast test capable of detecting the novel COVID-19 virus which originally was identified in Wuhan, China. Less than six weeks later, Loop Dee Science's R&D team had successfully designed a fast point-of-care testing solution using molecular biology.
CHU Caen Normandy plays a significant role in research and innovation in the health sector in Normandy. Professor Astrid Vabret is a renowned virologist in France and the CHU Caen's Virology Laboratory houses the National Reference Center for Infectious Diseases (Reference lab for measles, mumps, and rubella). Thus, CHU Caen already possesses recognized expertise in coronaviruses making it a logical and local partner for Loop Dee Science, which was important to foster smooth working relationships essential in times of public health crises.
For the industrialization and manufacturing of the analysis devices, Loop Dee Science reached out to ELDIM, a company in the Caen area, that specializes in the study, production, and sales of metrology equipment for photonics and optics. ELDIM works essentially for the tech giants, including Samsung, LG, Sony, or Apple whose CEO, Tim Cook, had paid a vist in 2017 during an official trip to France. The manufacturing and assembly of the analysis device will be entirely done by ELDIM in France.